Race Face SIXC Carbon DH Crank - Tested
Race Face SIXC Crank Details

• Purpose: all-mountain/downhill
• Hollow core carbon construction
• CrMo steel axle and pedal inserts
• Removable granny spider
• Weight: 646 grams (w/ BB and 36t ring)
• Lengths: 165, 170, 175mm
• BB options: 68/73mm, 83mm, BB92/BB107 Press-Fit, PF30 conversion or BB30 conversion
• Manufactured in Canada
• MSRP: $599 USD (36 tooth single ring), $649 USD (24/36/bash guard)

Light And Strong?

If you can justify the cost of these, you're likely the ideal user. Maybe not the ideal option for riders who are on a tight budget, the $549 USD (w/ a single 36t ring) SIXC cranks are a high-end component intended for riders who want some of the lightest and strongest arms out there. Practicality has met it's match. Weekend warriors on a budget, bashers, smashers, and crashers, and anyone with a financial plan best suited to canned beer need not apply. Race Face has engineered the SIXC cranks to be the ultimate packaging of strength and weight by utilizing a hollow, layered carbon fiber design. These are built to surpass the stiffness and strength of any other material, all while doing so at a significantly lighter weight. They are strong enough, in fact, that Race Face has no qualms about them being used to downhill racing, let alone the burliest all-mountain riding that you can likely subject them to.

And that is exactly what we did with them. From shuttle runs on the track, to sessioning hidden super-booters in the forest, we've put these lightweight carbon cranks through the ringer. Below, you can find out how they fared.





Downhill Approved - 83/165mm Options

With carbon at the forefront of bike technology these days, the industry's push to gain consumer confidence outside of the realm of spindly cross-country components has resulted in a barrage of new era composite designs that largely eliminate the need for excessive reinforcement for use in heavy-duty applications. Just like the interior of a carbon bike frame, the SIXC cranks utilize a hollow molded design, created by a proprietary process developed by Race Face. Layers of carbon fiber laminate are laid into shape by hand around a cromoly steel axle and pedal insert, with the lay-up then put into a machine that applies heat and pressure to mold the carbon into it's permanent shape. Afterwards, all unnecessary material is removed.

The SIXC's intent is immediately apparent in the basic components of the crankset - it is the only carbon crank on the market to utilize both a steel axle and steel pedal inserts. These hard-wearing cromoly components provide a robust platform for bottom bracket bearings, as well as for long-term durability at the pedal interface. While the crank is designed for dual-ring use, the removable small-chainring spider allows for ample compatibility with most any chain guide, and the updated 4.5mm thick chain ring tabs should be burly enough to shrug off even the worst abuse. Adequate testing in the aggressive all-mountain department has led Race Face to produce the SIXC in downhill crank spacing and lengths for 2012, with 83mm and BB107 options in 165mm lengths now available.





Trade in your granny for a single ring, or vice versa. With the granny ring spider removed, the versatile SIXC cranks offer ample clearance for a variety of ring mounting options. Race Face's 8mm bolt-on design with self-extractor cap proved handy, and once mounted, these cranks stay put - we had no issues with the arm arms coming loose.

Achilles Heel

While carbon has proven that its structural rigidity and fatigue life can surpass that of its aluminum counterparts, it is generally agreed upon that it falls short of aluminum when it comes to abrasion resistance. One-time impacts are not going to cause damage to the carbon crank, but gradual wear over time definitely contributes to a carbon component's failure. Through shuttle scars and crash damage, abrasion creates voids in the carbon strand that create an opportunity for catastrophic failure in the event of overloading the component. This, aside from the initial cost, is perhaps the only deterrent to most riders for recreational use of such high-end componentry.

With that in mind, Race Face created the nifty Crank Boot to help protect the ends of the crank from abrasion due to rock striking, and recommends use of the boots at all times on the carbon crank. The boots also fit SRAMs XX and XO carbon cranks. For riders who heel rub their shoe on the crank arm, Race Face recommends protecting the crank faces with clear 3M protective tape to help mitigate wear to the crank arm.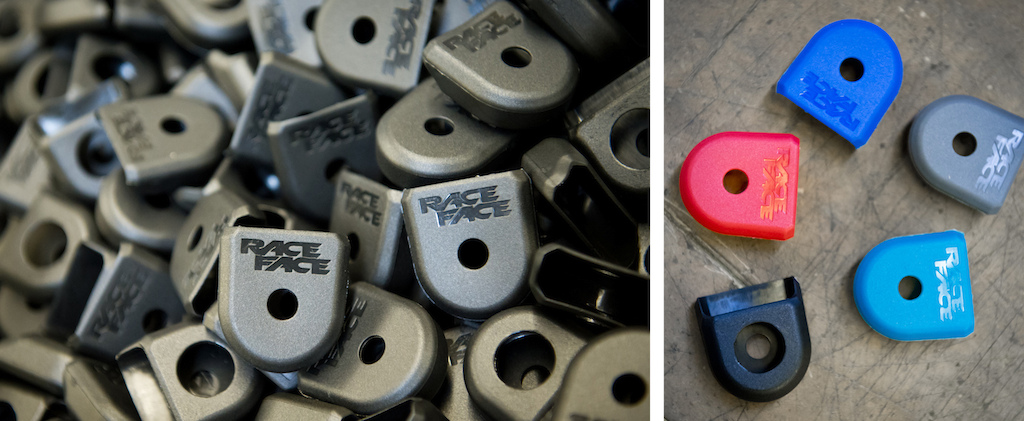 Wrap it up! Race Face's Crank Boots solve the issue of carbon abrasion at the tip of the crank by providing a soft bumper for impact protection. The boots, available in several colours, fit other brands of crank as well.

Quality Control

Race Face is proud to be able to design, develop, and produce the SIXC carbon cranks in their Vancouver, Canada, facility. This gives them complete control over the process, which is important with such a labor intensive and complex product like the SIXC cranks. They also conduct in-house testing, running through all CEN tests and a handful of proprietary crankset torture tests to be sure of the product's strength and quality. In the case of an incredibly high load (picture 3000lbs) they feature a designed-in 'safe failure' at the spindle that prevents the arms from separating.

The fatigue life and strength of carbon fiber is incredible. We've run industry CEN fatigue tests to 10 and 20 times the industry standard without them failing. - Race Face carbon engineer





Above, the SIXC crank starts with a thin sheet of raw carbon fiber mat which is then stamped into pieces to be wrapped around the steel axle and pedal insert. The molded crank is then machined for chainring tabs. We weren't allowed to show you the lay-up or carbon molding because Race Face's process is proprietary and unique, but lets just say it's really cool to see this kind of ingenuity being employed domestically.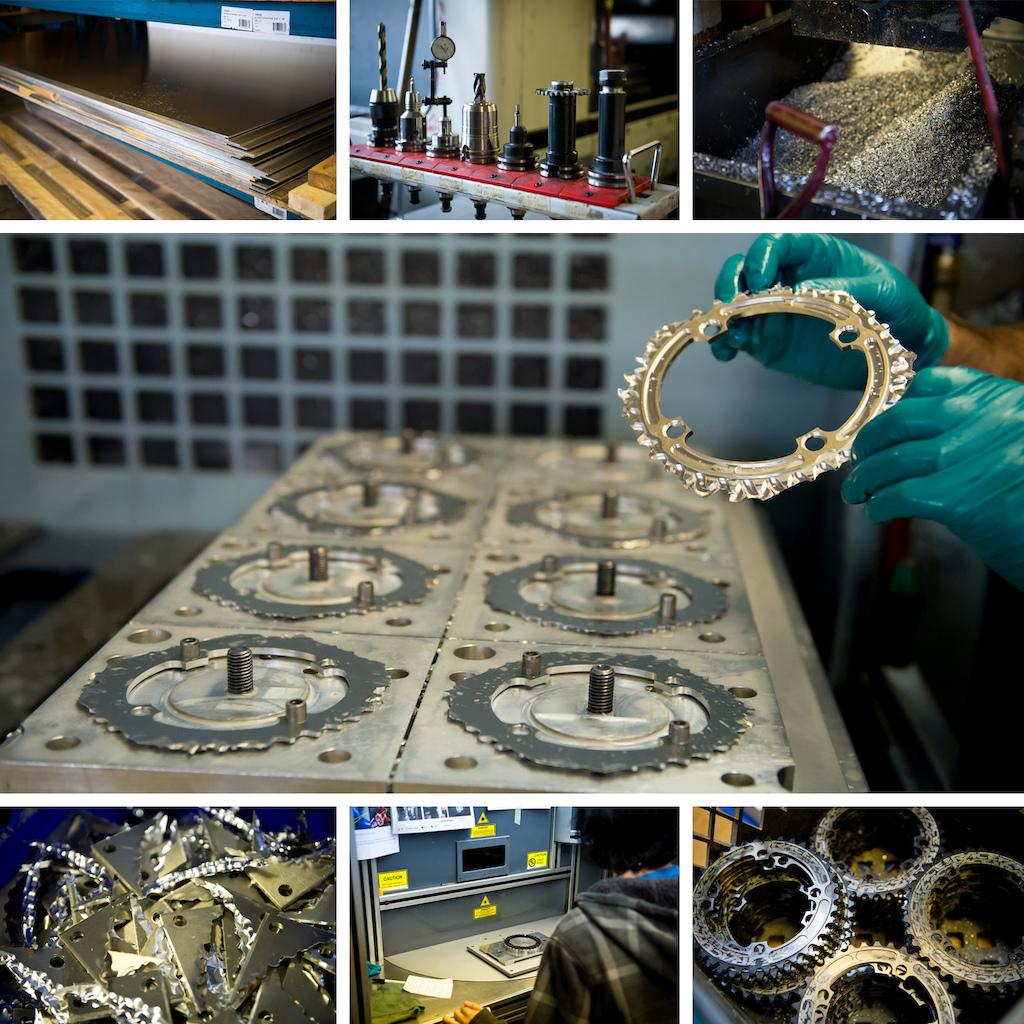 Stages of Race Face Race Ring chain ring: raw aluminum plate; tools of the trade for the CNC operator; metal dust; chain ring being flipped after machining of the first side; scrap metal; laser engraving; final product

To make manufacturing feasible in North America we employ a lean manufacturing cell operating at very close to one piece flow. Inefficiencies and wasteful processes are clearly visible, allowing us to continuously improve our processes over time. This is in stark contrast to typical large batch manufacturing techniques found overseas.
- Race Face carbon engineer

On The Bike

Mounting the SIXC cranks proved to be a breeze. Once the BB cups are installed in the frame, the cranks bolted right up with a single 8mm bolt. Shims on the crank axle allow for 3mm of spacing adjustment for setting the chainline, but ours were bang on right straight out of the box. The initial installation is much easier than what was required of Race Face cranks in the past, with the spindle to crankarm fitting being a pain free process. With our 83 x 170mm SIXC cranks mounted up on the big bike, we were ready to put them to the test.

Admittedly, we were initially a bit frightened to send it aboard the carbon crankset. But After a few runs the SIXC arms proved to be no less stiff than the hardy Atlas FR crank, so we totally forgot about the structural support mechanism and were able to focus on the trail. Other than nearly half pound difference in weight, there is no noticeable difference between the SIXC and the Atlas arms in use, which says a lot of the lightweight cranks' prowess. In fact, the SIXC cranks may actually feel slightly stiffer, but we're not sure if that's for real or just in our head. Regardless, the fact that the SIXC cranks can equal the stiffness of the heavier aluminum arms is impressive.

Maybe it's the gloomy weather and gritty trail conditions of the North Shore, but whatever it is, Race Face has figured out how to build a quality bottom bracket. With twice as many balls in each bearing cup compared to the competitors, the rugged Team DH bottom bracket endures downhill punishment despite any trail conditions. These bottom bracket bearings glide smoothly and freely without the need for ever adjusting the crank.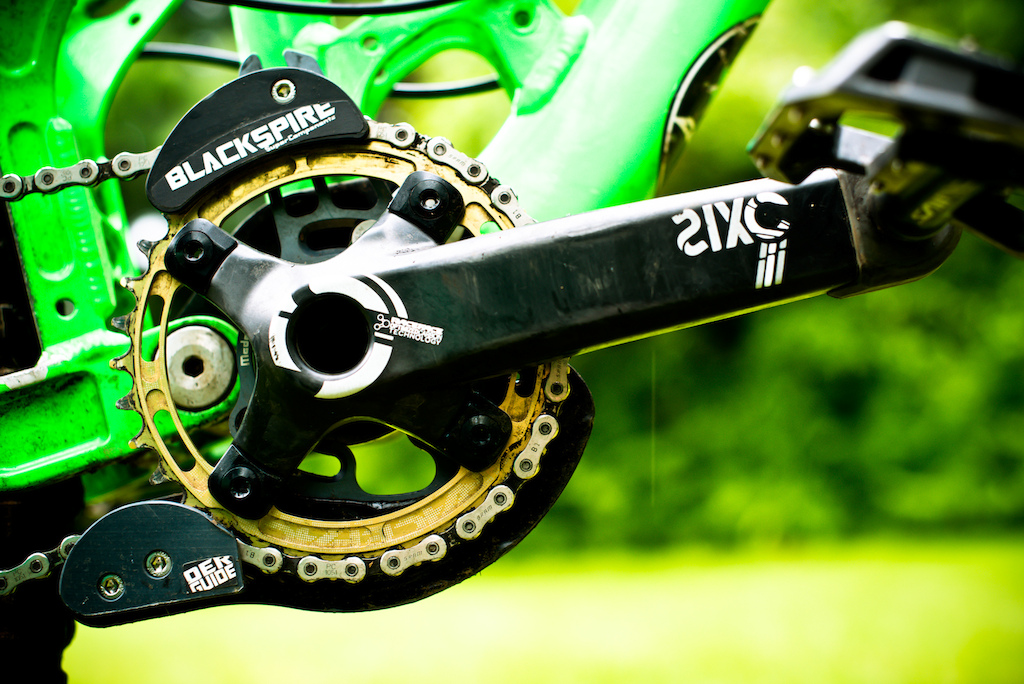 Rock chunking, crashing, and shuttling leave only marks of character on an alloy crank. However, carbon doesn't fare as well. Scratches and gouges to the carbon arms produce stress risers immediately, and start to abrade the fiber. Even with the crank boot on, we managed to chunk the non-drive arm slightly behind the boot while grinding through a rocky trail section (seen middle, below). Whether or not this proved a fatal blow will only be told in time, but for now it doesn't seem to have any affect whatsoever in the functionality or stiffness of the crank. Rider beware though, carbon does take more care, so choose your components wisely.





While aggressive riding and lightweight components seem contradictory, the SIXC cranks promise both. Lighter than the Atlas alloy crank and just as stiff and strong, they provide a sturdy platform for experienced aggressive riders. The SIXC's sport a beautiful, yet subtle look that commands attention on any bike. We're also head over heels for Race Face's single-bolt crank mounting design, which proves to be trouble-free time and time again. Although capable of pursuits in freeride, Race Face recommends the SIXC's usage for all-mountain riding and DH racing, and we couldn't agree more. The only reason we leave the SIXC arms out of the freeride and everyday downhill use genres is it's susceptibility to abrasion. This is a crank for those riders who take great pride in their rig so they can enjoy a flawless ride every time. Take care of your bike and it will take care of you. -Brad Walton

This article was originally published in Pinkbike.com